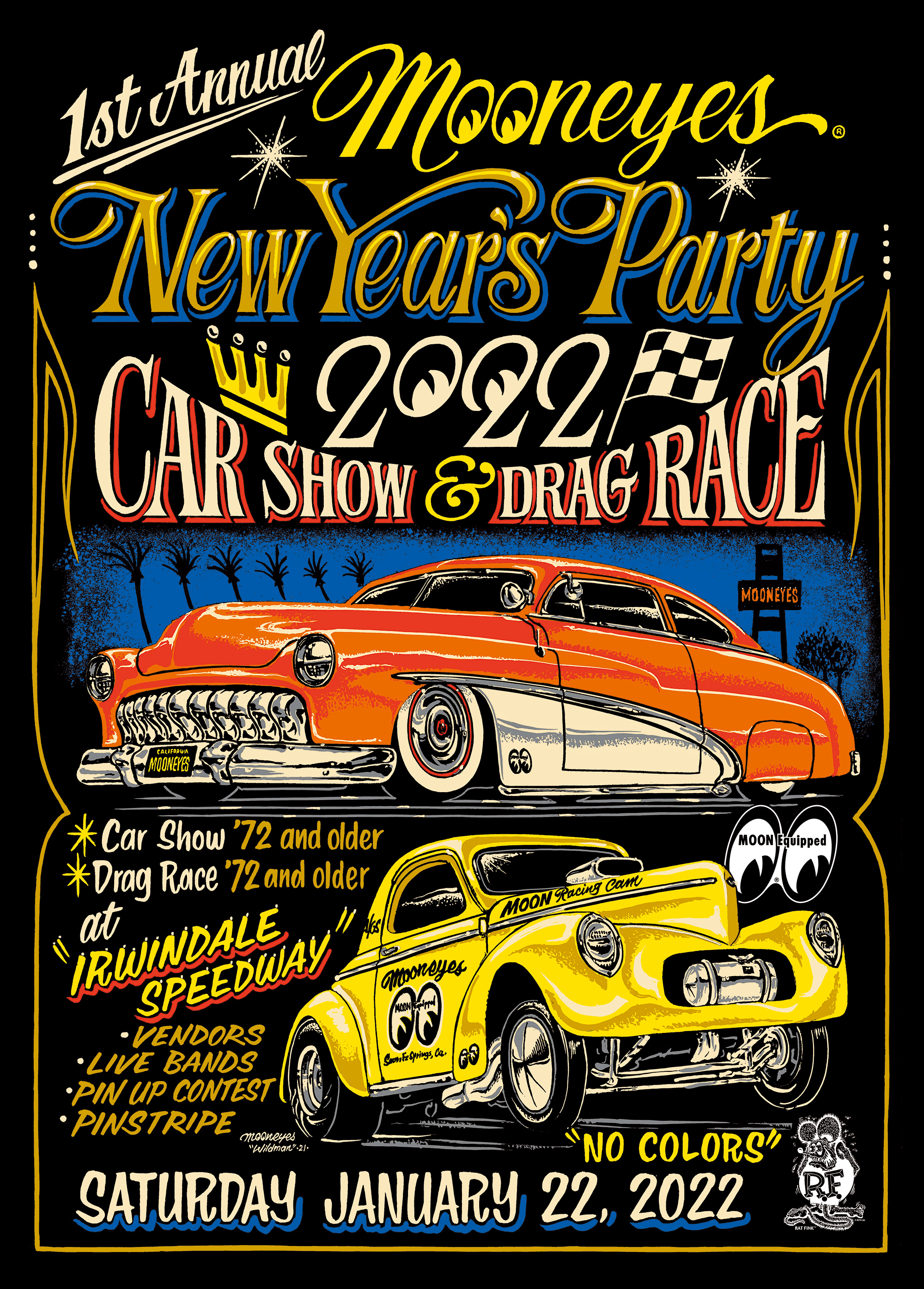 MOONEYES New Year's Party at Irwindale Speedway
Saturday January 22nd
Irwindale Speedway
Rain or shine
Where the CQQLEST people and
CQQLEST cars gather!
MOONEYES IS COMING BACK TO IRWINDALE
We are proud to present the 1ST ANNUAL MOONEYES NEW YEARS PARTY CAR SHOW AND DRAG RACE at THE IRWINDALE SPEEDWAY. This is a brand new show but will be a lot like the Famous MOONEYES X-MAS Party last held in December 18. This is a one-day show that will be held on Saturday January 22, 2022. Just like the Mooneyes Shows of the past it will include: Pre-72 CAR SHOW, Pre-72 Drag Racing, Vendor Booths, Live Bands, Pin-Up Contest, Pinstriping and more.
This is a family friendly show with kids under 12 free so bring the entire family and get ready for a GQQD time.
We hope you can join us for Fun and Good Time!
Go! with MQQN
Date:Saturday January 22, 2022 / 9:00am ~ 3:00pm
Location: 500 Speedway Drive Irwindale, California 91706
Rain or shine

Get the Tickets for MOONYES NEW YEAR'S PARTY at The FOAT
All registration show cars, drag race, spectators must buy ticket through "The FOAT."
General Admission is $20.00 per person (adult)
Children, 12 years and under are free.
General Parking is $20 .00 per vehicle.
NO COLORS , NO OUTSIDE ALCOHOL
LIVE BANDS
9:00am – Wenzdaze
10:00am – Outlaw Daddies
11:00am – Johnny and Jaalene
12:00 Noon – Hot Rod Trio
1:00pm – Moontones
2:00pm – Gogetters
SHOW CAR Registration
Show car must be 1972 and older. Limited to 1,000 Cars. NO MOTORCYCLES
PRE-REGISTRATION ENTRY FEE: $40.00 includes 1 car and 2 persons.
DRAG RACE Registration
Drag Race cars must be 1972 and older

PRE-REGISTRATION ENTRY FEE: $50.00 (race car entry fee)
DRIVE UP: $50.00 (race car entry fee)
Race Car on Trailer: $100.00 (Trailer must fit within 18′ x 36′ Space)
All Pit Crew must buy the General Admission Ticket at $20.00 on "The FOAT".
VENDOR BOOTH APPLICATIONS
Booth Space 10′ X 18 : $160.00 (1 Vehicle Pass)
Booth Space 20′ X 18 : $275.00 (2 Vehicle Pass)
Booth Space 30′ X 18 : $410.00 (3 Vehicle Pass)
Registration starts November 20th,
ALL REGISTRATION IS DONE ON THE FOAT
(Except VENDORS).
【CONTACT】
(562) 944-6311
info@mooneyes.com