MOONEYES XMAS PARTY
Show & Drag 2018

We said 2017 was last Xmas Show & drag at Irwindale Speedway. and we meant it.but Speedway management pulled miracle and they said we can have Xmas Show & Drag this year again at Irwindale Speedway. Hooley! mark your calendar. Saturday December 8th. rain or shine.

Registration biginins On Mon Sep. 3, 2018
until Sat. Nov. 17, 2018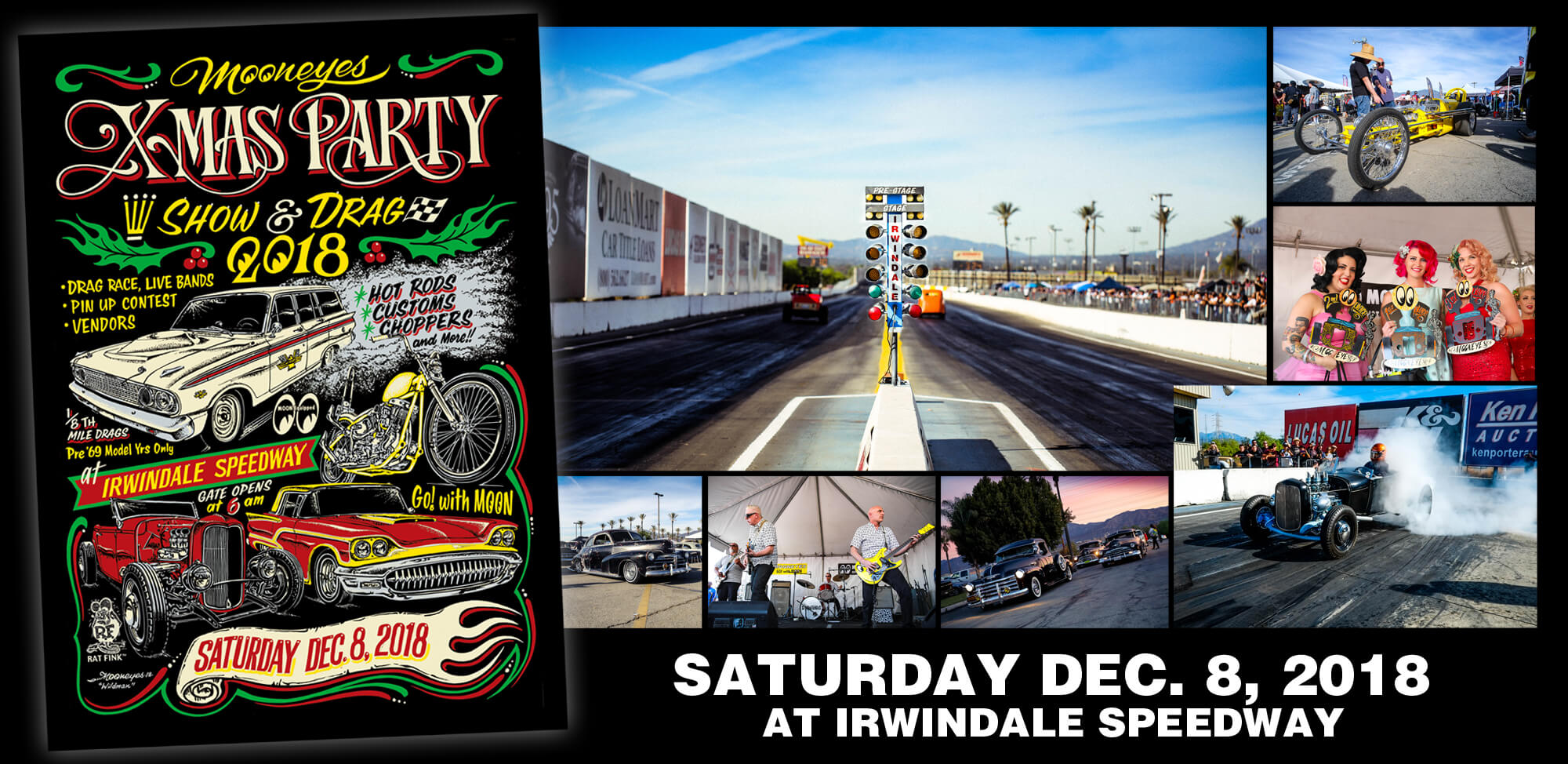 MOONEYES XMAS PARTY
Show & Drag 2018
We said 2017 was last Xmas Show & drag at Irwindale Speedway. and we meant it.but Speedway management pulled miracle and they said we can have Xmas Show & Drag this year again at Irwindale Speedway. Hooley! mark your calendar. Saturday December 8th. rain or shine.
Registration biginins On Mon Sep. 3, 2018
until Sat. Nov. 17, 2018
Important Notice!
City of Irwindale and police department will enforce traffic control on day of the show.
There will be "No Parking" sign posted along Live Oak Street. You'll not be able to line up and park your car and wait for gate to open along Live Oak Street. they will patrol and have you move.
we'll try to open East gate as early as possible.Once we open gate, we'll try to get you in as quickly as possible.
thank you for your understanding and cooperation
Mooneyes attends many events throughout the year. You can find us at the Long Beach Cycle Swap and the Pomona Swap Meet regularly too. Of course, we host our events such s our annual Open House, held at our shop in Santa Fe Springs.
Check out MOON NOOZ for previous event coverage and photos.
Mooneyes Original Dashboard Covers
Now you can custom order your very own Mooneyes Original Dashboard Covers (More Details)
Dean Moon first began selling his own speed parts while in high school.
MQQNEYES
Video Clips
Occasionally we post video clips from around our shop and events as well. We also like to share video clips from others as well. See what's happening here at Mooneyes in Santa Fe Springs, California. Enjoy!
MQQNEYES Online Shop & Showroom

You can shop online 24/7 or visit our showroom in Santa Fe Springs, California from 8am-5pm Monday to Friday and Saturday from 9am-3pm (Closed on Sunday/Holiday). For more information, please check out contact page.