---

2nd MOONEYES
NEW YEAR PARTY 2023

Let's kick off New Year with a Bang!

It's time for 2nd Annual Mooneyes New Years Party.
No more COVID restrictions!

Show cars
Drag Race
Pinstripe demo
Pin Up Contest
Vendors
Live Bands

Come out and Enjoy the day of cars and people!

2nd MOONEYES NEW YEAR PARTY
Place: IRWINDALE SPEEDWAY
500 Speedway Drive Irwindale, California 91706
Date: SAT. JAN. 28, 2023
Time: 9am – 3pm (Rain or Shine)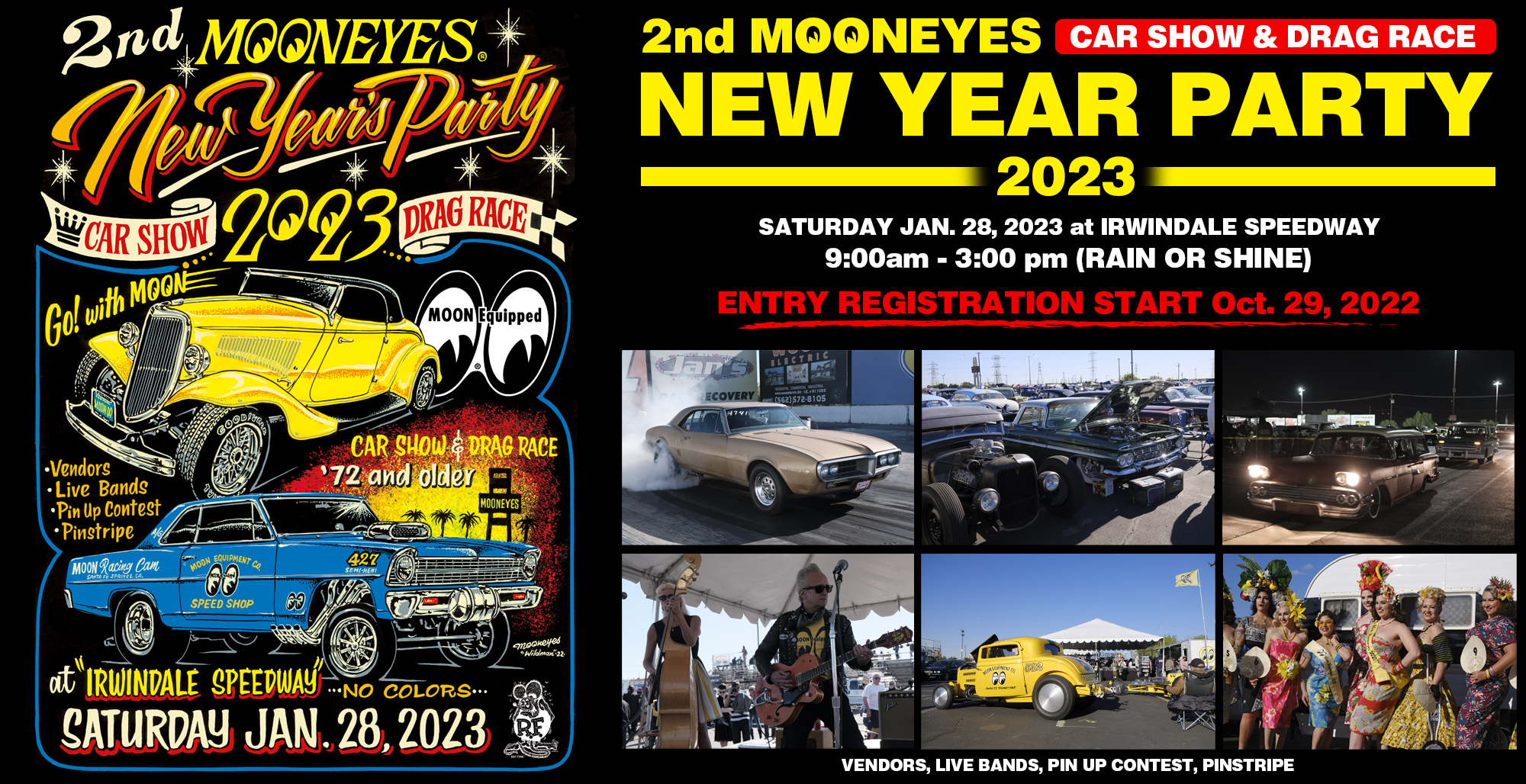 2nd MOONEYES
NEW YEAR PARTY 2023
Let's kick off New Year with a Bang!
It's time for 2nd Annual Mooneyes New Years Party.
No more COVID restrictions!
Show cars
Drag Race
Pinstripe demo
Pin Up Contest
Vendors
Live Bands
Come out and Enjoy the day of cars and people!
2nd MOONEYES NEW YEAR PARTY
Place: IRWINDALE SPEEDWAY
500 Speedway Drive Irwindale, California 91706
Date: SAT. JAN. 28, 2023
Time: 9am – 3pm (Rain or Shine)
---
Mooneyes attends many events throughout the year. You can find us at the Long Beach Cycle Swap and the Pomona Swap Meet regularly too. Of course, we host our events such s our annual Open House, held at our shop in Santa Fe Springs.
Check out MOON NOOZ for previous event coverage and photos.
Mooneyes Original Dashboard Covers
Now you can custom order your very own Mooneyes Original Dashboard Covers (More Details)
Dean Moon first began selling his own speed parts while in high school.
MQQNEYES
Video Clips
Occasionally we post video clips from around our shop and events as well. We also like to share video clips from others as well. See what's happening here at Mooneyes in Santa Fe Springs, California. Enjoy!
MQQNEYES Online Shop & Showroom

You can shop online 24/7 or visit our showroom in Santa Fe Springs, California from 8am-5pm Monday to Friday and Saturday from 9am-3pm (Closed on Sunday/Holiday). For more information, please check out contact page.