Mooneyes in Santa Fe Springs, California
MOON EQUIPMENT COMPANY:
MOONEYES products and logos are an indelible part of hot rod nostalgia, easily recognizable to gearheads and novices alike. We take pride in producing high quality products that look great and get the job done right.
Mooneyes produces Moon Fuel Blocks, Moon Tanks, Moon Discs, Moon Valve Covers among other original parts right on site in their machine shop. They also supply various parts and accessories for hot rods and kustoms as well as an expanding line of custom motorcycle products.
Located in the same place since it all started back in the 1950s, Mooneyes is located in Santa Fe Springs, California. All visitors are welcome! Come on in, say hello and be sure to ask for a shop tour.
Dean Moon Started Right Here…
Dean Moon grew up here in Southern California. His parents moved the family west when he was nine years old. Just after the turn of the century, Santa Fe Springs was a small oil field drilled by one major company. However, in '20s the well hit a gusher that set off an oil rush and within a year the Santa Fe Springs oil field made petroleum history attracting all kinds of oil companies to dig in.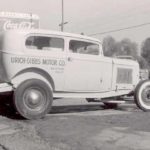 The Moon family moved to the area in 1936 and ran a cafe in Santa Fe Springs named Moon's Cafe. All through school Dean worked at the cafe. By the time he was attending Whittier High School, he also worked for a Lincoln-Mercury dealership in their machine shop and learned about ignitions and fuel delivery. He began to apply this knowledge to his own car projects with the aim at more speed and power. Successful at this, he designed his first speed product: the MOON Fuel Block and actually made them in his high school shop class. By the time he was a junior in high school, he was technically in the speed parts business while still working for the car dealership machine shop that had one of the only dynamometers (dynos) in the area and learned more about what was needed to increase power to the wheels.
After graduating high school he joined the military and served in Japan as part of U.S. occupying forces. Returning from duty, he teamed up with his brother and officially started MOON Automotive. However, Dean was drafted in the '50s for the Korean War and he found himself in Air Force as aerial photographer. When he returned from active duty once again, he purchased land at 10820 South Norwalk Boulevard in Santa Fe Springs, California, literally just down the block from Moon's Cafe and the rest is history…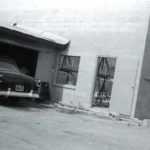 After acquiring the property in the '50s, Dean Moon expanded by adding a new building for shipping and warehousing featuring a three-bay garage. This garage is the very location Dean's friend Carroll came over in 1962 turned out the very first Shelby Cobra.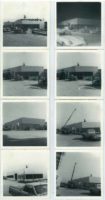 Dean Moon purchased Potvin Cams from his friend Chuck Potvin in the early '60s. A new building was made to house the machines.