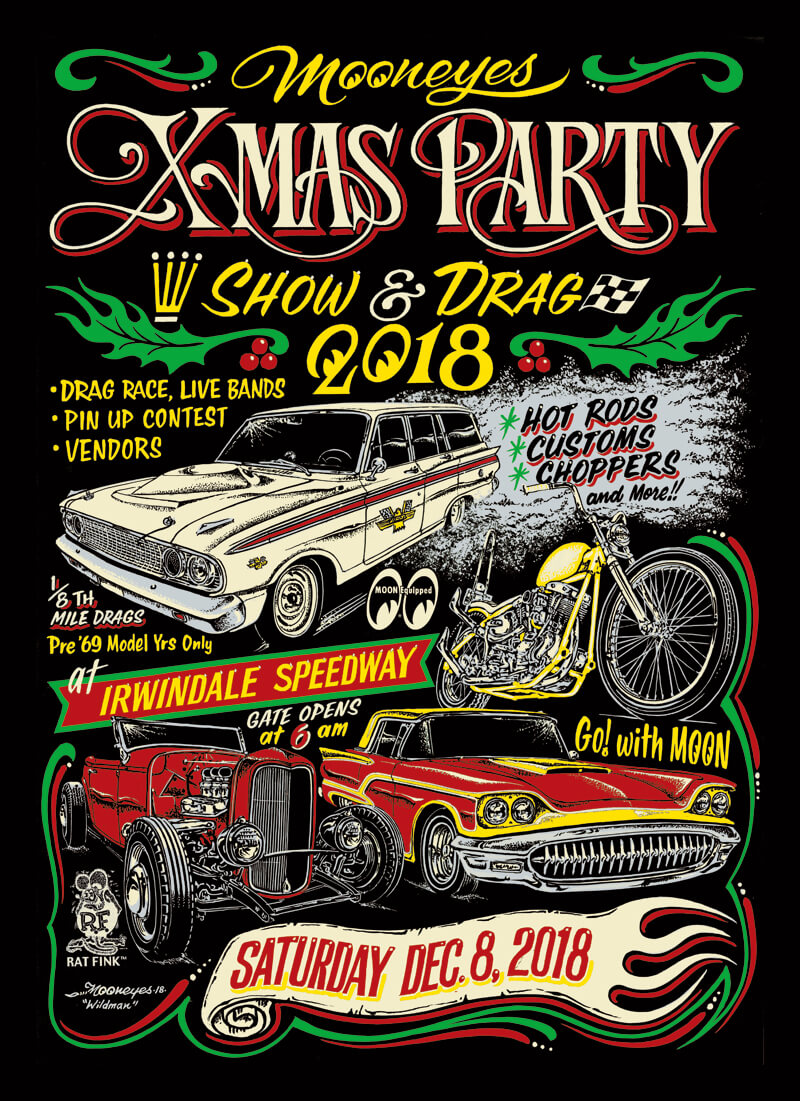 MOONEYES XMAS PARTY
SHOW & DRAG 2018
SATURDAY DECEMBER 8, 2018
Irwindale Speedway
Rain or shine
Where the CQQLEST people and
CQQLEST cars gather!
Thank God!
We are back at irwindale Speedway again! mark your calendar! Hope to see you there!
Hot rods, Customs, Choppers, and more 1/8mile drag (pre '69 model years only) limited to 100 cars. Live bands, Vendors, Pinstriping, Pin Up ContestMOONEYES XMAS PARTY SHOW & DRAG 2018
Date:Saturday December 8, 2018 / 8:00am ~ 4:00pm
Location: Irwindale Speedway – 500 Speedway Dr. Irwindale, CA 91706
Rain or shine
Important Notice!
City of Irwindale and police department will enforce traffic control on day of the show.
There will be "No Parking" sign posted along Live Oak Street. You'll not be able to line up and park your car and wait for gate to open along Live Oak Street. they will patrol and have you move.
we'll try to open East gate as early as possible.
Once we open gate, we'll try to get you in as quickly as possible.
thank you for your understanding and cooperation
General Admission is $10.00 per person (adult)
Children, 12 years and under are free.
General Parking is $15 .00 per vehicle.
NO COLORS , NO OUTSIDE ALCOHOL
LIVE BANDS
9:00am – The Moontones
10:00am – Johnny Ramos and Jaalene Queen of the Teens
11:00am – The gamblers Mark
12:00Noon- The Juke Joint Preachers
1:00pm – The Hot Rod Trio
Registration starts September 3rd online or at store.
For more information, please contact MOONEYES.
(562) 944-6311
info@mooneyes.com
REGISTRATION
ENTRY DEADLINE: SATURDAY NOVEMBER 17, 2018
Please print the PDF, fill out the form completely and send it in. See form for our address and related information.You will receive credentials in the mail two weeks prior to the show.
For any specific questions, please contact us at sales@mooneyes.com or by calling (562) 944-6311.
SHOW CAR Registration
All show cars are limited to pre 1965 model years.
PREREGISTRATION ENTRY FEE: $25.00 includes 1 car and 2 persons.
Registration Entry Fee at the gate (at show) is $50.00 (1 car & 2 persons)
Motorcycles are $20.00 Preregistration or at the gate.
Additional persons over 12 years old must purchase general admission tickets ($10 / Person) at the gate upon entry into the show or you may send a check for each additional ticket in advance with your entry application from.
PLEASE COME EARLY TO GUARANTEE A PARKING SPACE
Preregistration does not guarantee a parking space. Although we do have reserved sections for the car show entries, all parking is based on a first come, first served basis. Please arrive early to secure a parking space. Gate opens by 5AM. Parking is managed by Irwindale Speedway. Once the parking lot is declared full, the gate will be closed and no vehicles will be permitted into the parking area until an official confirms an open space. MOONEYES does not have any control over the parking situation. We apologize for the trouble and any inconvenience this may cause.
Please Note: THE PARKING LOT WILL FILL UP QUICK.
Please do not setup tents in open spaces or block empty spaces. Please cooperate with the parking lot attendants at all times. After all, they are just doing their job. Come early, park early, take it easy and enjoy a fine day at the show! We appreciate your understanding and cooperation regarding the parking situation.
NO COLORS. NO OUTSIDE ALCOHOL.
Thank you very much.
DRAG RACE Registration
RUN WHATCHA BRUNG! Test your car & your skills!
PREREGISTRATION ENTRY FEE: $50.00 (race car entry fee)
PREREGISTRATION ENTRY FEE: $40.00 (motorcycle/drag bike entry fee)
Preregistration includes 1 vehicle pass and 2 wristbands.
Drag cars are limited to pre 1969 model years.
NHRA SAFETY RULES APPLY. CARS MUST PASS ON-SITE INSPECTION PRIOR TO RACING.
Trailer parking: $30.00 (Trailer must fit within 36-foot space)
Additional Vehicle parking Pass $20.00
(Support Vehicles Must Park in Vendor Parking Area)
Additional persons over 12 years old must purchase general admission tickets ($10 / Person) at the gate upon entry into the show or you may send a check for each additional ticket in advance with your entry application from.
AFX racers : must register with David Franklin
760 212-6862
dave61@sbcglobal.net
Entry is now full for Drag Race.
If you want to participate in the Drag Race, we will add to the waiting list so, please contact MOONEYES.
Entry is full
VENDOR BOOTH APPLICATIONS & SHOW REGISTRATIONS
VENDOR PERMIT: All vendors are liable for sales tax. Please file sales tax on your own. We (MOONEYES) have no part in sales tax. The City of Irwindale have new regulations and vendors do not need to apply for business license this year. MOONEYES will apply business license for all vendors and pay fee. Your fee is included in vendors fee.
SEE ONLINE ABOUT BUSINESS LICENSES: http://www.irwindaleca.gov/index.aspx?NID=186

Booth Space 10′ X 18 : $160.00 (1 Vehicle Pass, 2 Wristband)
Booth Space 20′ X 18 : $285.00 (2 Vehicle Pass, 3 Wristband)
Booth Space 30′ X 18 : $410.00 (3 Vehicle Pass, 4 Wristband)

*Registrations may end early without any notice, depending on space available.
Any Vehicle without a pass must enter from the main gate and pay the parking fee $20.00. Any persons without a Wristband must pay $10.00 at the gate.
You will receive a vendor packet in the mail after you have been confirmed and processed. We are very selective of our vendors and reserve the right to refuse any vendor application. No vehicles will be allowed to park behind their booth. Set up is on Friday (DEC 7) from 12 Noon to 6PM (no camping allowed). Saturday gates open at 5AM. You can setup from 5-8AM. No setup after 8AM. Showtime is 8AM to 4PM. Please enter from EAST GATE. Please have your vendor pass ready at the gate. You will be directed to your booth space by EVENT STAFF. All vendor vehicles must be moved to assigned parking area by 8AM sharp on event day.
MITZI & CO. Present
XMAS PARTY Show & Drag 2018 Pinup Contest
Registration begins on Sat Sept 3, 2018 until Wednesday October 31, 2018.
Finalists will be announced Thu Nov 1, 2018.
Contact mitziandco@gmail.com for details!