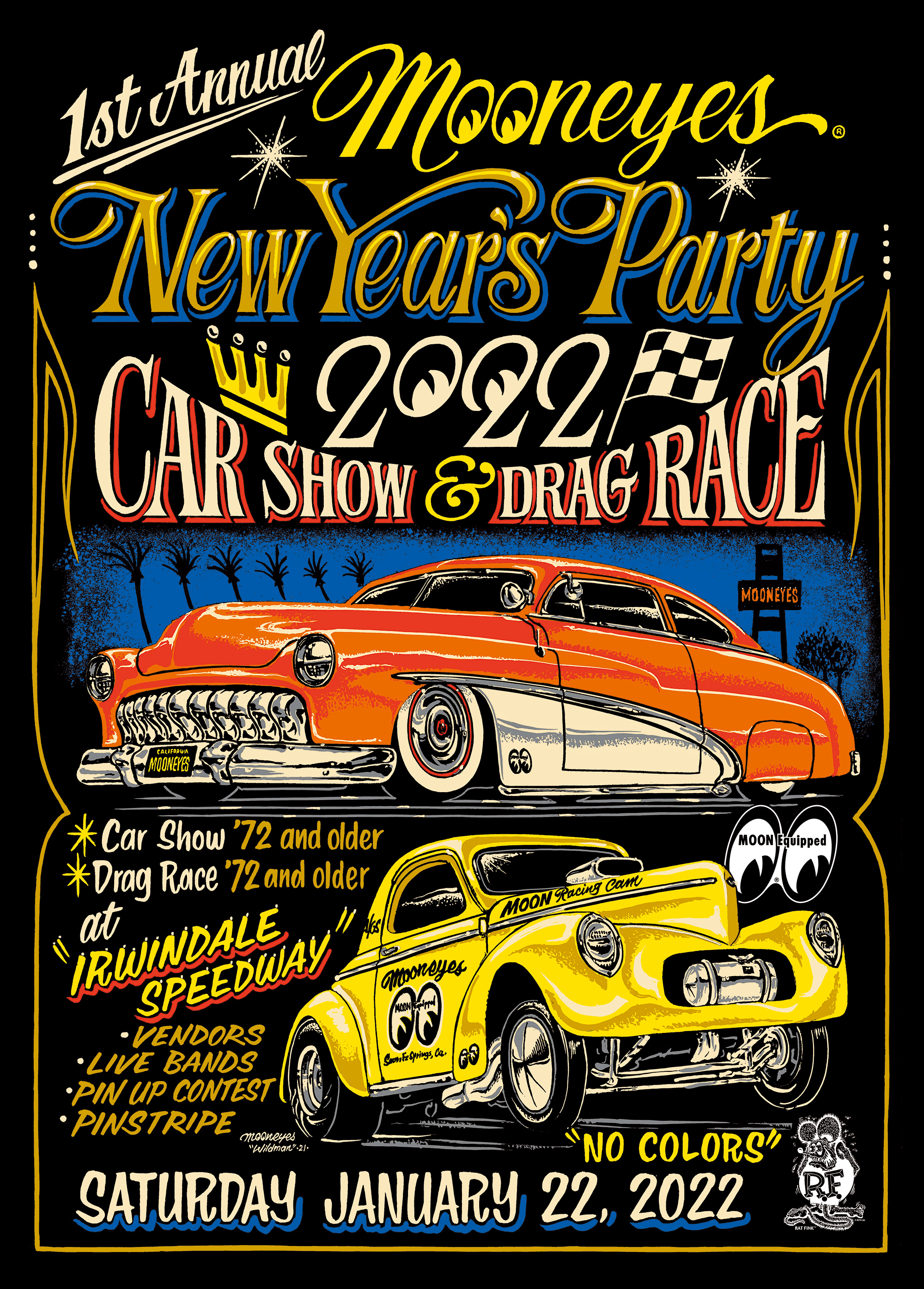 MOONEYES New Year's Party at Irwindale Speedway
Saturday January 22nd
Irwindale Speedway
Rain or shine
Where the CQQLEST people and
CQQLEST cars gather!
MOONEYES IS COMING BACK TO IRWINDALE
We are proud to present the 1ST ANNUAL MOONEYES NEW YEARS PARTY CAR SHOW AND DRAG RACE at THE IRWINDALE SPEEDWAY. This is a brand new show but will be a lot like the Famous MOONEYES X-MAS Party last held in December 18. This is a one-day show that will be held on Saturday January 22, 2022. Just like the Mooneyes Shows of the past it will include: Pre-72 CAR SHOW, Pre-72 Drag Racing, Vendor Booths, Live Bands, Pin-Up Contest, Pinstriping and more.
This is a family friendly show with kids under 12 free so bring the entire family and get ready for a GQQD time.
We hope you can join us for Fun and Good Time!
Go! with MQQN
Date:Saturday January 22, 2022 / 9:00am ~ 3:00pm
Location: 500 Speedway Drive Irwindale, California 91706
Rain or shine
Get the Tickets for MOONYES NEW YEAR'S PARTY
at The FOAT!
All registration show cars, drag race, spectators must buy ticket through "The FOAT."
General Admission is $20.00 per person (adult)
Children, 12 years and under are free.
General Parking is $20 .00 per vehicle.
NO COLORS , NO OUTSIDE ALCOHOL
LIVE BANDS
9:00am – Wenzdaze
10:00am – Outlaw Daddies
11:00am – Johnny and Jaalene
12:00 Noon – Hot Rod Trio
1:00pm – Moontones
2:00pm – Gogetters
ALL REGISTRATION IS DONE ON THE FOAT
(Except VENDORS).
For more information, please contact MOONEYES.
(562) 944-6311
info@mooneyes.com
REGISTRATION
ENTRY DEADLINE:
SATURDAY January 8th, 2022
Please register from
"The FOAT"
if you are registering for the SHOW CAR and DRAG RACE. If you have difficulties registering from
"The FOAT"
, please contact us.
If you are registering for VENDOR, please print the PDF, fill out the form completely and send the application directly to MOONEYES.
RACERS and VENDORS will recieve Vehicle Pass to get in from the EAST GATE.
You will receive credentials in the mail two weeks prior to the show.For any specific questions, please contact us at info@mooneyes.com or by calling (562) 944-6311.
SHOW CAR Registration
Show car must be 1972 and older. Limited to 1,000 Cars. NO MOTORCYCLES
PRE-REGISTRATION ENTRY FEE: $40.00 includes 1 car and 2 persons.
Pre Entry ONLY. NO SHOW CAR Registration at the gate.
Additional persons over 12 years old must purchase general admission tickets ($20.00 / Person) at "The FOAT" in advance.
PLEASE COME EARLY TO GUARANTEE A PARKING SPACE
Gate opens by 5AM. Parking is managed by Irwindale Speedway. Once the parking lot is declared full, the gate will be closed and no vehicles will be permitted into the parking area until an official confirms an open space. MOONEYES does not have any control over the parking situation. We apologize for the trouble and any inconvenience this may cause.
Please Note: THE PARKING LOT WILL FILL UP QUICK.
Please do not setup tents in open spaces or block empty spaces. Please cooperate with the parking lot attendants at all times. After all, they are just doing their job. Come early, park early, take it easy and enjoy a fine day at the show! We appreciate your understanding and cooperation regarding the parking situation.
NO COLORS. NO OUTSIDE ALCOHOL.
Thank you very much.
DRAG RACE Registration
RUN WHATCHA BRUNG! Test your car & your skills!
Drag Race cars must be 1972 and older
PRE-REGISTRATION ENTRY FEE: $50.00 (race car entry fee)
DRIVE UP: $50.00 (race car entry fee)
Pit Spot 9′ x 36′

INCLUDE: Car and Driver.
Drag Race cars must be 1972 and older.
NHRA SAFETY RULES APPLY. CARS MUST PASS ON-SITE INSPECTION PRIOR TO RACING.
Race Car on Trailer: $100.00 (Trailer must fit within 18′ x 36′ Space)
Includes 1 vehicle pass, 1 driver, and 1 Trailer Parking.
Additional Vehicle parking Pass $20.00
(Support Vehicles Must Park in Vendor Parking Area)
All Pit Crew must buy the General Admission Ticket at $20.00 on "The FOAT" .
AFX racers : must register with David Franklin
760 212-6862
dave61@sbcglobal.net
VENDOR BOOTH APPLICATIONS
VENDOR PERMIT: All vendors must have City of Irwindale Business License. All vendors are liable for sales tax. Please file sales tax on your own. We (MOONEYES) have no part in sales tax.
All workers must purchase the General Admission tickets ($20.00 / Person) through "The FOAT" in advance.
You will not get in without Ticket.

Booth Space 10′ X 18 : $160.00 (1 Vehicle Pass)
Booth Space 20′ X 18 : $275.00 (2 Vehicle Pass)
Booth Space 30′ X 18 : $410.00 (3 Vehicle Pass)

*Registrations may end early without any notice, depending on space available.
Any Vehicle without a pass must enter from the main gate and pay the parking fee $20.00.
You will receive a vendor packet in the mail after you have been confirmed and processed. We are very selective of our vendors and reserve the right to refuse any vendor application. No vehicles will be allowed to park behind their booth. Set up is on Friday (JAN 21) from 12 Noon to 6PM (no camping allowed). Saturday gates open at 6AM. You can setup from 7-8AM. No setup after 8AM. Showtime is 9AM to 3PM. Please enter from the EAST GATE. Please have your vendor pass ready at the gate. You will be directed to your booth space by EVENT STAFF. All vendor vehicles must be moved to assigned parking area by 8AM sharp on event day.
PLEASE MAKE SURE EVERYONE HAVE PURCHASED TICKET THROUGH "The FOAT" .
MITZI & CO. Present
Friendly MQQNEYES New Year's Party 2022 Pinup Contest
Registration is until December 27th, 2021.
Finalists will be announced December 30th, 2021.
Contact mitziandco@gmail.com for details!