MOONEYES XMAS PARTY SHOW & DRAG 2018 Report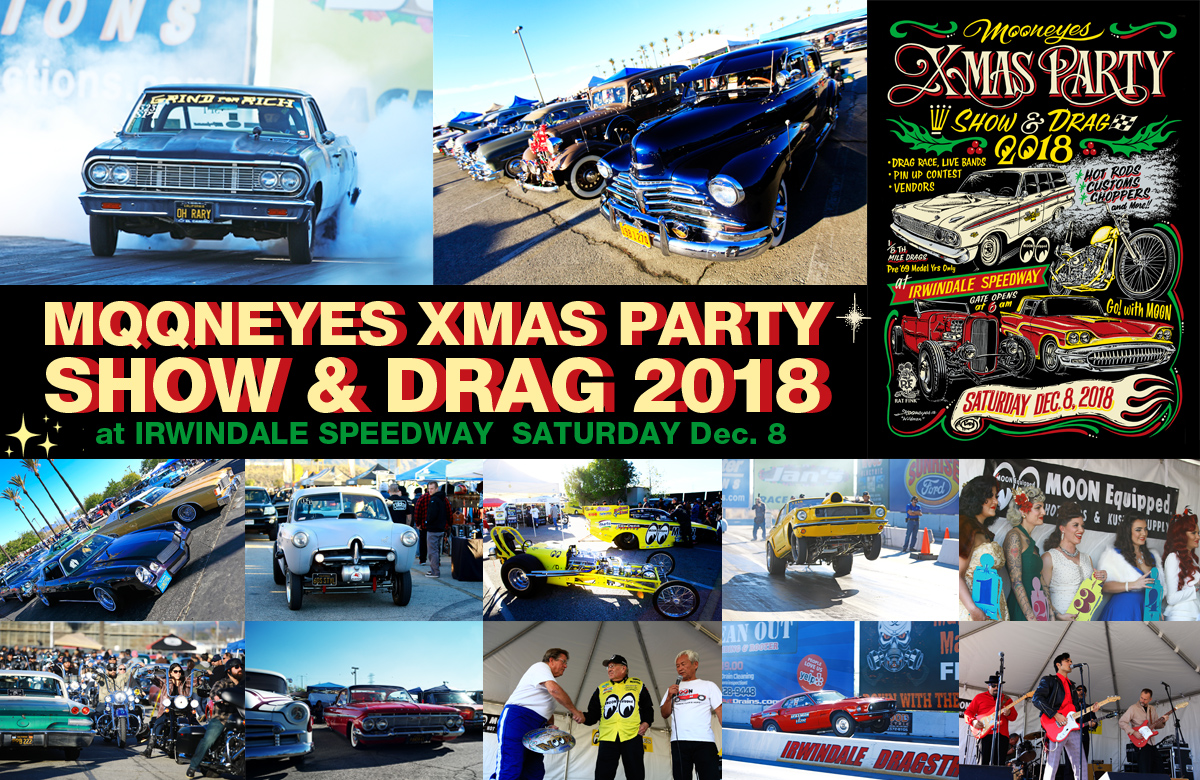 We thought last year was last Mooneyes Xmas Show & Drag,
but Irwindale Speedway was able to let us have another one this year.
As soon as we got word from Speedway, we've let people know about it and
received overwhelming welcome from many vendors, racers, participants alike.We received well over 1,000 pre registered cars and bikes with drag race cars limited to 120.
How lucky can we get with weather. it was raining on Thursday and forecast for Friday, Saturday was Sunny.
This year, police Dept. had said we can't have any cars lined up on street waiting to get in.
we've e-mailed, posted on website and thanks to all who participated, things went real smooth.
in fact, many said move in was very smooth this year.
As usual, place got filled up by 8:00am. started to see some cars and bikes roaming around to find place to park.
Band, we had Moontones at 9:00am, Johnny Ramos and Jaalene the Queen of Teen at 10:00am,
Gamblers Mark at 11:00am, Juke Joint Preachers at 12:00 Noon and Hot Rod Trio at 1:00pm with Dan Moses at D.J.
Drag Race, with 20 AFX cars signed up this year, they entertained fans all day.
Vendor area was full of people all day long.
We would like to thank everyone who took part in making another Mooneyes Xmas Show and drag a success.
We hope to see you again this year!
Go! with Moon